Undercrown Sun Grown Wins 2017 Cigar of the Year by Cigar Dojo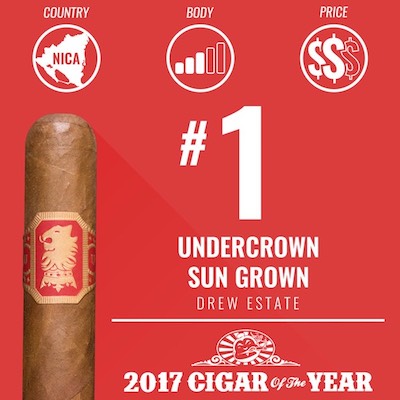 Cigar Dojo announced their 2017 Cigar of the Year awards, and the Undercrown Sun Grown Corona was named #1 Cigar of the Year!
Cigar Dojo noted of the Undercrown Sun Grown, "Rather than simply slap the nearest leaf on an existing blend and call it good, Drew Estate took their time to develop a unique experience from the ground up.
Staying true to the Undercrown line's roots, the Sun Grown makes use of the Stalk Cut/Cured leaf made famous by the Liga Privada T52 (used as the Sun Grown's binder component). This is balanced by an all-Nicaraguan filler recipe and the cigar's highlight usage of an Ecuadorian Sumatra Sun Grown wrapper.
Undercrown Sun Grown begins smooth and mellow, eventually ramping up to include an assortment of cabinet spices, squash, and mineral (like the smell of rain), brought to a harmonious balance with sweeter flavors of pumpkin spice, cinnamon, graham cracker, and the cigar's "it factor" flavor concoction of butter/toffee/salt. In our experience, this is easily the most enjoyable blend in the Undercrown line (excluding the legendary DOGMA), as well as perhaps the most unique profile in all of Drew Estate's impressive portfolio."
The Undercrown Sun Grown features an Ecuadorian Sumatra seed, Sun Grown wrapper. The binder is a Connecticut River Valley Stalk Cut/Cured Sun Grown Habano, complimenting a powerhouse blend of Nicaraguan premium fillers. One leaf of extensively aged Ligero from the Nueva Segovia region along the border of Honduras has been selected to enhance the strength of the blend.