Balmoral Private Collection wins DFNI Award
During the annual DFNI (Duty Free News International) Product Awards program, a prestigious DFNI Award was presented to Royal Agio Cigars.
In the Tobacco section, Agio Cigars won Best New Product in 2016 for Balmoral Private Collection 25's.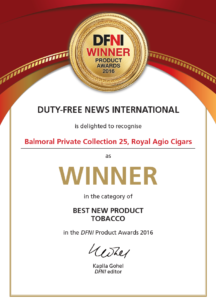 The DFNI Product Awards are held each year to reward excellence and innovation among the leading players in the travel retail and duty-free industry, in terms of store concepts, products or marketing initiatives in the last 12 months.
Inspired by the luxury travel retail world and by consistently focusing on quality cigars and exclusive packaging, Balmoral created Private Collection 25. Balmoral Private Collection is exclusively available in travel retail stores around the world.
The cigars are presented in elegant piano lacquer wooden boxes with a self-regulating humidification system. All cigars carefully chosen to showcase the Balmoral range.
With five Short Corona's, five Corona's, three Corona Tubos, five Panatela, five Small Panatela and two Small Panatela Tubos, Private Collection always offers the right cigar for the right moment. A pleasure for all cigar aficionados.