Balmoral Cigars in China
Balmoral Cigars in China
金堡垒雪茄在中国
Recently Agio Cigars launched Balmoral Dominican Selection in China and the products have very quickly become our bestsellers. It made me think why Balmoral Dominican Selection is doing so well in China?
最近Agio Cigars在中国市场推出金堡垒多米尼加精选系列,并迅速成为我们的热销产品。我不禁思考,为什么金堡垒多米尼加精选会在中国如此受欢迎?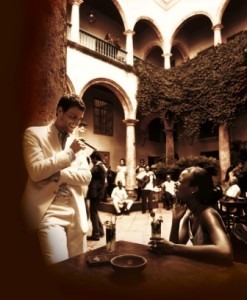 First of all, I would like to give you a little background on this range of products. Balmoral cigars are made in Agio Cigars factory in San Pedro de Macoris, a small city in the Dominican Republic located in the southeastern part of the country. The cigars are made with a premium blend of tobaccos from South America and the Caribbean and a natural shade-grown wrapper from Ecuador (a small country located in northwestern South America).
首先,我想向大家简单介绍该产品系列的背景。金堡垒雪茄产于San Pedro de Macoris的Agio 雪茄工厂,San Pedro de Macoris是多米尼加共和国的一座小城,位于该国的东南地区。雪茄由产自南美和加勒比地区的烟草和产自厄瓜多尔的一的一的一种天然蔽光生长的包叶优质茄衣混合而成。厄瓜多尔是位于南美西北地区的一个小国家。
Growing the wrappers from Ecuador in a natural shade ensures that the Balmoral cigars have a mild and rich flavor. It also guarantees the beautiful golden color of the wrapper. Master blender Willem van Overveld personally selects these tobaccos, which provide the perfect body and balance to the cigars.
在厄瓜多尔天然蔽光环境下种植包叶可确保金堡垒雪茄具有温和而丰富的口味。同时可保证包叶漂亮的金色外观。混合配方大师Willem van Overveld亲自选择这些烟草,为雪茄带来完美的身量口味和平衡均衡度。
So why is Balmoral Dominican Selection so successful? Well, the key reason for me is that Balmoral Dominican Selection offers premium and high quality cigars for affordable prices. Balmoral cigars are a luxury almost every cigar smoker can afford.
那么为什么金堡垒多米尼加精选系列如此成功呢?不错,对我来说主要原因在于金堡垒多米尼加精选系列提供了高档高质量的雪茄且价格实惠。金堡垒雪茄是几乎每一位抽雪茄的人都能买得起的奢侈品。
At the moment there are 2 Balmoral products available in China, Balmoral Dominican Selection Panatela for RMB 150 (pack of 5 cigars) and Balmoral Dominican Selection Corona Tubos for RMB 250 (pack of 5 cigars).
现在中国市场上有两款金堡垒产品,分别是金堡垒多米尼加精选之宾纳第,售价150元(每盒5根),以及金堡垒多米尼加精选之告朗拿筒,售价250元(每盒5根)。
So if you are looking for a great cigar for a reasonable price, Balmoral Dominican Selection is an excellent choice. And as you can see, I personally smoke and recommend these Balmoral cigars.
因此,如果您正在寻找一款物美价优的雪茄,金堡垒多米尼加精选系列将是一个不错理想的选择。而且您也看到,我个人就抽金堡垒雪茄,也推荐大家用抽享用这些金堡垒雪茄。 
For more information about Balmoral Dominican Selection cigars, please feel free to contact Hans Rijfkogel at:
想了解更多关于金堡垒多米尼加精选雪茄的信息,请随时联系Hans Rijfkogel:
h.rijfkogel@asiamarketingservices.com