Balmoral Anejo XO Receives 92 Rating From Cigar Journal
Cigar Journal, one of the leading cigar magazines, rewarded the Balmoral Añejo XO – Rothschild Masivo with a 92 rating.
According to Cigar Journal: "The creamy smoke of the cigar yields gingerbread sweetness, a delicate spice and a ginger sharpness, as well as wood and cacao. A magnificently solid ash! Interesting and multifaceted right to the end."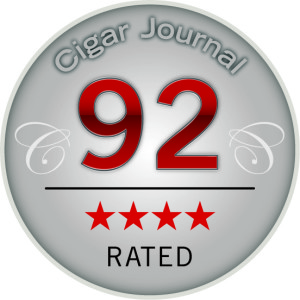 Boris Wintermans (CEO Royal Agio Cigars): "It's a real pleasure to be rewarded for good quality. Now after a 91 rating on the Petit Robusto FT, we received a 92 rating on the Rothschild Masivo. That is fantastic and confirming the high standards we apply for the Añejo XO. I am convinced that every aficionado that smokes an Añejo XO, will be positively surprised by the complexity and aromas."
The Balmoral Añejo XO is available in three vitolas; Rothschild Masivo, Torpedo Mk52 and the Petit Robusto FT. The Rothschild Masivo, has a length of 5 inch and a ring gauge of 55.
For more information about Balmoral Añejo XO, please contact Hans Rijfkogel, Asia Marketing Services at:
+886-2-8758 2778 or h.rijfkogel@asiamarketingservices.com
Please click on the image below for a short video about the 92 Cigar Journal rating of Balmoral Añejo XO: